At the end of last week Rae Hoffman-Dolan (aka "Sugarrae") has published an excellent infographic explaining what affiliate marketing is, and how exactly it works. Before Rae's "step by step visual" the one that I've seen used more frequently than anything else was this one and variations of it (example 1, example 2). It was a good one for a simpler visual explanation; and I, actually, used something very similar on the cover of my newest book. Another one I particularly enjoyed was the HasOffers graphic. Now we also have this one (click to magnify it):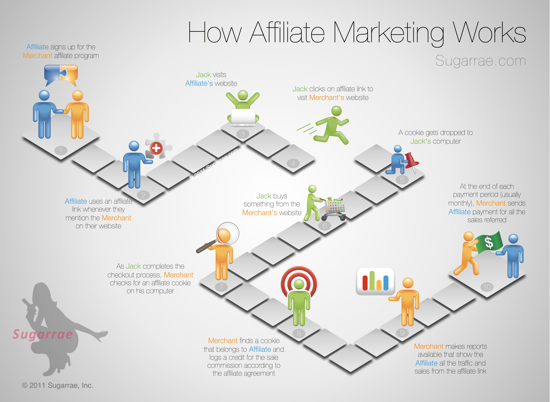 [image provided courtesy of the Sugarrae affiliate marketing blog]
I think both Sugarrae and Randy Krum did an excellent job on it.
I have only one thing to add: for the performance-based remuneration model (which is the backbone of affiliate marketing) to work, there doesn't necessarily have to be a link or a cookie. There are situations when neither is required. Besides cookieless tracking solutions (which aren't as widely spread, so I won't pause on these much), here are two scenarios when there will be no click (hence, no cookie set), but the rest will work exactly per Sugarrae's or the traditional affiliate marketing scenario (namely: the merchant will recognize the referral, and credit the affiliate the commission due):
Situation #1: Pay-per-call scenario — When, employing a pay-per-call solution, a merchant has a capability of assigning unique phone numbers to its affiliates, and attributing commissions based on what number the lead/sale came from.
Situation #2: Exclusive coupon codes — When a merchant has a way of distributing unique coupon codes (similar to buy.at's solution, or what ImpactRadius offers in the U.S. as well) which track back to the affiliates they were originally assigned to, regardless of who published them.
Again, that was an excellent infographic, but both affiliates and merchants should understand appreciate that performance/affiliate marketing does go beyond clicks and cookies now.